Fighter Law Representing Domestic Violence Victim, Kristin Evans, Attacked by Ex-NFL player Zac Stacy
Fighter Law has always proudly advocated for survivors of domestic and sexual violence, and while this case has reached the national stage this instance is no different. We are proud to represent Kristin Evans in the case of State of Florida v. Zackary Stacy.
Our primary goal in this case is to provide Ms. Evans with justice and peace of mind. Under Marsy's Law victims of a crime have the right to be heard during the trial proceedings and to have a voice in the court. These victims and their families are entitled to due process; to be free of harassment and abuse; protection from the accused; and the right to be treated with fairness and respect.
"I am grateful for the outpouring of support from our community and other victims of domestic violence from all over the world. I never wanted to be (or ever thought I would be) in this situation. I know none of us ever do. But I want to make sure that all other victims know they have voices, they have rights and I'm going to fight for them to be heard." – Kristin Evans
Ms. Evans is not seeking fame or compensation but is utilizing her situation to call awareness to the issue of domestic violence, and to provide justice for her and her family.
Ms. Evans has started a GoFundMe campaign benefitting Harbor House of Central Florida; an organization dedicated to protecting survivors of domestic violence.
UPDATE 12/2: Kristin Evans speaks out about the incident and recent hearing
Following Ms. Evans' November 24th court appearance, Ms. Evans was granted a 5-year injunction against ex-NFL player Zackary Stacy. Ms. Evans and Attorney Thomas Feiter, spoke to Dana Perino of America's Newsroom to discuss the incident and victim's rights under Marsy's Law.
Click below to read the final judgment:
Information regarding his charges and further legal action are still pending at this time. Please refer to this page for future updates and additional details.
(11/24): Victim Counsel Statement following November 24, 2021 Hearing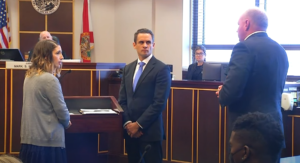 "We are grateful that Kristin Evans was able to have her voice heard in court today. We are also very grateful that the presiding judge granted us additional safeguards to better ensure Kristin's safety and the safety of her children.  The defendant (Zac Stacy) is no longer allowed in the State of Florida, unless it is to attend a scheduled court hearing.
It is our hope that we can increase awareness of victim rights under Marsy's Law so that other domestic violence survivors will know their voices will be heard in court." – Thomas B. Feiter, Esq. ; Attorney for Kristin Evans
For more information on the developments of this case, you can visit Kristin Evans' attorney's website at https://fighterlaw.com/
Official Court Minutes (From Clerk's Website) on November 24, 2021:
Comments:
This cause having come on this day for a Hearing on Joint Emergency Motion to Reconsider Bond Amount and Allow Victim Testimony. The Motion to Reconsider the Bond Amount is denied. The Court found that the amounts imposed are appropriate.
The Court hereby modifies the conditions of bond as follows:
Do not enter the State of Florida with the exception for appearing at any scheduled Court hearings.
Do not reside in any other state other than Alabama except for the time that the Defendant is in and participating at the inpatient treatment program in the State of Colorado. Once released from the program, the Defendant is to return back to Alabama and reside with his mother.
Absolutely no contact whatsoever, directly or indirectly with the victim, Kristin Evans
Do not possess any weapons or firearms.
Do not reside in a house with weapons or firearms.
The Defendant may remain in the State of Florida to retrieve personal items understanding that he must comply with all the conditions of bond.
All original terms and conditions set at initial appearances shall remain in full force and effect.
A change of address was filed in Open Court. Attorneys for the victim, Thomas Feiter and Melissa Vickers were present. H. Jackson (Intern) appeared with Defense Counsel Luka.
Kristin Evan's Statement (11/22):
Zackary Stacy Initial Appearance (11/19):